Nita Light

Basic Info

Age:

6000 Light Years.

Personality:

Startistic & Creative

Fashion Style:

Comfy and Playful

Cosmic Quirk:

I'm brightest at night!

Fav earth food:

Moon Cake

Favorite activity:

Reenergizing in my room.

I Don't Get:

Beds, floating is way more comfortable!

Wants to Learn:

How to keep a secret, my friends can see right through me!

Mission:

To design Earth fashions that look good on everyone!!
Nita Light is startistic and creative. She was introduced in 2012, and is the fifth character of the Novi Stars series. She has a white face, and a transparent body. Her doll has the ability to glow in the dark and she comes with an energy pod. Her name comes from the phrase "Need a light", and her name also means "Night Light". She is also called "Glowina" by friends.
Personality
Edit
Nita is described as a gentle, and artistic soul. She loves her imagination, which inspires her in many ways. As well as finding fun new ways to add her art and creative designs/ideas into things. Besides art, she also wishes to get into fashion a bit more. Nita is the only Novi Star so far to not have a pet, instead she comes with an energy pod.
Physical Appearance
Edit
Nita is a ghostly white color, with every part underneath her head being see through. Her doll itself is 7 inches tall, and her eyes are a deep aqua green/ teal color with an odd symbol in them consisting of a circle with a few parts below it and a spot in the center. Her hair is purple and is pulled into a long roll-bun at the very top of her head with a few strands of hair that stick out. She harbors the ability to glow. Her antennas are zig-zagged shaped.
Relationships
Edit
Nita is close friends with Alie Lectric, Una Verse, Ari Roma and Mae Tallick. It is most likely that she is also good friends with Malie Tasker, Tula Toned, Sila Clops, Gail Lexi, and Cici Thru.
Energy Pod
Edit
Nita is very different from the other Novi Stars instead of a pet she comes with an energy pod. She often spends her time in her room (energy pod) reenergizing/relaxing when she can. Which most likely keeps her calm and allows her to think more freely to let in new ideas. Nita seems to dislike beds, considering she can float and prefers to do this instead. She claims that she came with her special device that is said to have been brought with her from wherever the Novi Stars are from.
Dolls and Merchandise
Edit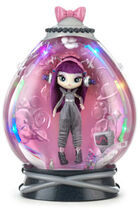 Line: 'Basic'
Release: June 2012
Model number: 517146
Nita wears a silver and gray themed outfit. Consisting of a tube top with very big circular shapes below her shoulders and silver belt around her waist. Her pants are very puffy, held up with flaps and very thin white sparkled lines going down them. Her shoes are black, simple platforms with very loose top parts and the toe cut out. Her hair is tied into a bun with a few loose strands. The doll comes with her glowing energy pod, a magazine, and a silver soda bottle and headphones.