Mae Tallick

Basic Info

Age:

13.7 Billion Years

Personality:

Talkative and a little clumsy.

Fashion Style:

Electrifying, Shiny, & Metallic.

Cosmic Quirk:

I'm a chatterbot!

Pet:

8-Bit

Fav earth food:

Everything wrapped in tin foil.

Favorite activity:

Mixing music like a DJ.

I Don't Get:

The beach...who wants sand and salt mixed in their gears?

Wants to Learn:

How to stop on these skates...force is different on Earth!

Mission:

To become the biggest "pop" star!
Mae Tallick is a chatterbot. Her doll was introduced on June 15 2012. Though she is a bit clumsy, Mae loves to skate. Although she'd love to learn how to stop on them someday. She doesn't particularly like going to the beach, due to the sand and salt getting in her joints and messing with her gears. Her doll can talk. Her name is a play-on word from and of "Metallic". She is also called "Miz Bot" by friends.
Personality
Edit
Mae is described as talkative and a little clumsy. She typically dresses in different accessories and bottoms. Her pet is called 8-Bit, and her symbol is a bow.
Physical Appearance
Edit
Mae is a metallic pink-purple color. Since she's a robot, she's mostly metal so she doesn't wear much clothing. She has robotic plating on her chest and legs, and she has a heart on the side of her chest. Her skates are built into her feet, and has glitter all over her body. Her doll itself is 7 inches tall, and her eyes are pink and have a skull and crossbones icon (the white spot in the middle of the pupil). Her hair is teal and is put into long spiral pigtails with bangs that frame her face on either side. Her antennas are bent into bows.
Relationships
Edit
Mae is best friends with Alie Lectric, Una Verse, and Ari Roma. It is most likely that she is also good friends with Nita Light, Malie Tasker, Tula Toned, Sila Clops, Gail Lexi, and Cici Thru.
Mae Tallick's pet is named 8-Bit. She first "landed" on earth along with 8-Bit.
Dolls and Merchandise
Edit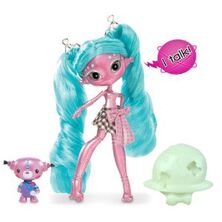 Line: 'Basic'
Release: June 2012
Model number: 516941
Mae wears a black and white plaid skirt with a pink bow that has blue dots. She also has skates built into her feet. Her hair is worn into two teal spiral pigtails on top of her head, and her bangs frame either side of her face. The doll comes with a 8-Bit figurine, and a planet-shaped doll stand that glows in the dark.
Orbit Beach
Edit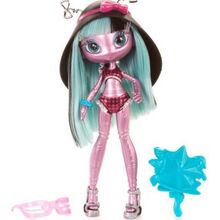 Mae wears a hot pink and black checkered two-piece swimsuit, with silver ruffles as the trimming. She wears silver open-toed sandals with wheels attached to them, and she wears a blue bracelet on her right arm. She seems to be wearing a cream colored back pack, and a black hat with a large pink bow on it. Her hair is worn loose and it is a lighter teal color along with black streaks. The doll comes with hot pink sunglasses and a brush.